Sign In / Up

0

Points Toward
Next Reward

0

Rewards Expiring
End of Month

Local Boys Made Good
Back in 1948, two Dallas friends, J.R. Bost and Bob Cullum, became intrigued with a new shopping concept called "supermarkets." Together, they bought a small local chain. For the first few years they worked nights and weekends to upgrade the selection, quality and overall shopping experience. Despite their small size, they competed against the national chains. Their eager style of customer service was embodied by a friendly little cartoon figure in a grocer's apron—the instantly recognizable Tom Thumb logo.
Fabulous 50s
As Dallas boomed and its suburban limits expanded, so did Tom Thumb. The marketplace was fiercely competitive. But by leveraging its local advantage, it prospered and by 1956, had grown to 20 stores. Tom Thumb was well on its way to becoming a major regional chain. Bob Cullum was a tireless innovator, especially in offering non-food items such as housewares and health and beauty products. Construction of new, larger stores and purchases of small chains continued non-stop.
At Heart, Always a Neighborhood Store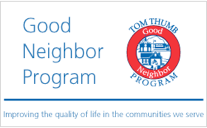 From 1950-66 Tom Thumb doubled its sales volume. They bought the gourmet specialty Simon David stores, 34 Hinky Dinky stores in the Midwest, even 17 Pantry Food Markets in California. Easily the most impactful move was the addition of Page Drugs. It signaled a new direction for Tom Thumb, combining food and drug in one store. It worked spectacularly. By 1974, sales had reached half a billion dollars. The zenith of this growth was in the 1980's with a farsighted venture with Wal-Mart; the opening of A 220,000 square foot hyperstore. Despite its enormous sales volume, the project proved ahead of its time and was discontinued. Tom Thumb's management took this opportunity to catch their breath. A refocused corporate strategy in the 90's lead to a consolidation. In 1992, Jack Evans merged the Tom Thumb operations with those of a longtime colleague, Robert Onstead of Randall's. Tom Thumb's historic tradition of innovative customer service continued after the merger. In 1997, the first steps were begun to introduce online grocery service.
© 2018 Albertsons Companies, Inc.  All rights reserved.
Sign In or Sign Up
To use this feature, you must sign in or sign up with TomThumb.com. To return to browsing, close this window
Sign In or Sign Up
To use this feature, you must sign in or sign up with TomThumb.com. To return to browsing, close this window
Select Your Store
Cancel
Select a store below to add just for U deals and save on your next shopping trip.
Sorry, no stores found in that zip code.
Choose your primary store and relevant offers
Why am I seeing this?
We found multiple stores for you. One could be your favorite while another might be a store near you, or one you browsed in the past. Since some offers vary by store, we want to make sure we're showing you the correct offers for your favorite store.
Why do I see this every time I visit?
If you visit the website and are not logged in, we automatically pick the store closest to you. If you try then log in and have a different store saved with your account, we will confirm which store you prefer. If you clear your browser cookies (or have software that automatically clear cookies) you may receive this each time you visit the site.
To keep this from happening
Select "Keep me signed in on this computer" when logging in or go to your browser's settings and update them to not clear cookies for this website.