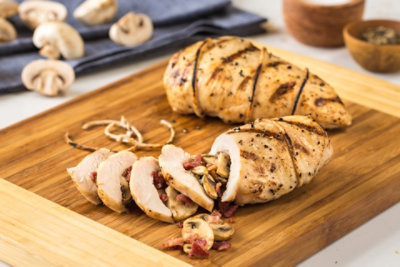 Stuffed Chicken with Smoked Bacon & Mushrooms
Try this seasonally-inspired take on chicken-- perfect for transforming your backyard barbecue this summer. Made with a delicious hickory bacon compound butter to elevate the dish, this recipe is sure to be a seasonal staple!
Total original price
* Estimated price based on adding all ingredients to cart.
Chicken
2 Signature Farms® boneless, skinless chicken breasts
1 pinch kosher salt, plus additional for seasoning chicken pre-grilling
1 pinch ground black pepper, plus additional for seasoning chicken pre-grilling
2 tablespoons olive oil, plus added oil for brushing chicken pre-grilling
butcher's twine (for tying rolled chicken)
Signature SELECT® aluminum foil (optional for grilling)
Hickory Bacon Compound Butter
4 tablespoons unsalted butter, softened to room temperature
3 slices Signature Farms® hickory bacon, cooked, cooled and minced
1/2 cup thinly-sliced mushrooms
2 tablespoons minced shallots
2 tablespoons olive oil
1 pinch kosher salt
1 pinch ground black pepper
Cooking Instructions
Step 1
To prepare hickory bacon compound butter, combine the cooked, minced bacon and the unsalted butter together, mix well and chill.
Step 2
Heat a medium-size sauté pan, add oil, shallots and mushrooms, then season with salt and pepper. Sauté for 2 minutes, then set aside and allow to cool.
Step 3
Butterfly chicken breast, opening it up into 2-3 folds. Season with salt and pepper.
Step 4
Divide butter between the butterflied breast, then add sautéed mushrooms. Fold and tie with butcher's twine.
Step 5
Brush roll-tied chicken breast with olive oil, then season with salt and pepper.
Step 6
Heat grill to medium-high and spray grates with non-stick spray (or brush with oil).
Step 7
Place stuffed chicken breast on hot grill. Grill for 1 ½ minutes, pick up and turn 90 degrees to create grill cross marks. Grill chicken breast for another 1½ minutes, turn over and then cover grill. Cook covered for an additional 10-12 minutes.
Step 8
Remove from grill and allow to rest 4-5 minutes, remove twine and serve.
Step 9 :: Pro Tip
If the twine is becoming charred, place chicken breast on sheet of aluminum foil and continue cooking until internal temperature reaches 165°.
All recipe ingredients should be cooked to a safe internal temperature according to USDA guidelines. After preparing a recipe, please store any leftovers in the refrigerator.