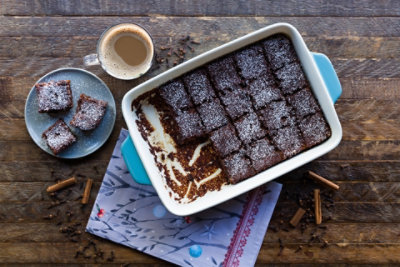 Sticky Gingerbread Bars
Exceptionally soft and flavorful, these gingerbread bars are a great alternative to gingerbread cookies. Made with less sugar and safe for various allergies, make this quick and healthy recipe for any holiday gathering this season!
Total original price
* Estimated price based on adding all ingredients to cart.
Main Ingredients
1/4 cup white sugar or sweetener of choice
6 tablespoons softened coconut butter or regular butter (not coconut oil)
2 tablespoons ground flax meal + 6 tablespoons hot water
3/4 cup molasses
1/2 cup unsweetened applesauce
2 cups baking paleo flour blend
1/2 teaspoon salt
1/4 teaspoon ground nutmeg
1 1/4 teaspoons ground ginger
1/2 teaspoon ground cinnamon
1/4 teaspoon ground cloves
3/4 cup hot water
2 teaspoons baking soda
Cooking Instructions
Step 1
Preheat oven to 350F. Grease and flour 9 X 11 pan.
Step 2
Cream coconut butter and sugar until fluffy. While mixing add flax meal mixture slowly followed by molasses.
Step 3
In medium bowl combine dry ingredients (flours, salt and spices). Add to wet ingredients and stir until just combined.
Step 4
Mix baking soda with hot water in small bowl and stir until dissolved. Quickly stir into batter.
Step 5
Pour batter into pan and bake 35 minutes or until toothpick comes out clean. Serve with dusting of powder sugar or dollop of Greek vanilla yogurt and sprinkle of cinnamon.
Step 6 :: Helpful Hints:
Mix in chopped walnuts, mini chocolate chips or top with your favorite cream cheese frosting.
All recipe ingredients should be cooked to a safe internal temperature according to USDA guidelines. After preparing a recipe, please store any leftovers in the refrigerator.