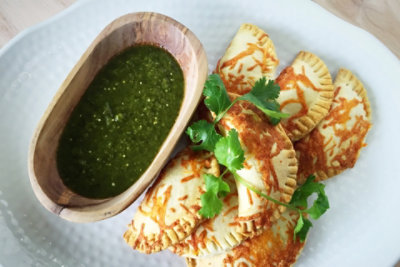 Shrimp and Sweet Corn Empanadas with Hatch Chile Lime Aioli
Savory, flaky, and seasonal, these shrimp empanadas are not complete without the Hatch Chile lime aioli!
Total original price
* Estimated price based on adding all ingredients to cart.
Shrimp and Sweet Summer Corn Empanadas:
2 packages Signature SELECT ™ Pie Crust
1/2 cup Roasted Hatch Chiles peeled and seeded, rough chopped
31 - 40 ct., 16 oz. bag Open Nature™ Shrimp Peeled and Deveined
1/2 cup Lucerne® Shredded Pepper Jack Cheese
2 tablespoons Signature SELECT™ Mayonnaise
1 can Signature SELECT™ Black Beans, drained and rinsed
1 cup Fresh Summer Sweet Corn, kernels only
2 Eggs, beaten
Hatch Chile Lime Aioli:
1 cup Roasted Hatch Chiles, peeled and seeded
1/4 cup Lime Juice, fresh
1 bunch Cilantro, washed, leaves only
1/2 cup Signature SELECT™ Mayonnaise
Salt, to taste
Fresh Cracked Black Pepper, to taste
Cooking Instructions
Step 1
Preheat oven to 350°F. Using a cookie cutter, cut 4 inch rounds out of the pie crust and set aside.
Step 2
For the empanadas, combine prepared Hatch Chiles, shrimp, pepper jack cheese, and mayonnaise in a food processor. Pulse for roughly 20 seconds just until shrimp are chopped and mixed with the other ingredients. Add black beans and sweet corn, then gently repeat pulsing with the food processor only until filling comes together.
Step 3
Lay pre-cut piecrusts on counter top. Brush with beaten egg and add 2-3 tablespoons of prepared filling to the middle of each crust. Fold empanada in half, then use a fork to crimp and seal the edges.
Step 4
Place empanadas on a sheet pan, brush them with egg wash, bake for 10 - 15 minutes or until golden brown and 165°F internally.
Step 5
For the sauce, combine all ingredients in a blender and purée until aioli is formed. Serve empanadas warm from the oven with aioli on the side, eat and enjoy!
Step 6 :: Helpful Hints
Any scrap pie crusts left over from cutting can be tossed with cinnamon sugar and baked to create piecrust cookies!
All recipe ingredients should be cooked to a safe internal temperature according to USDA guidelines. After preparing a recipe, please store any leftovers in the refrigerator.