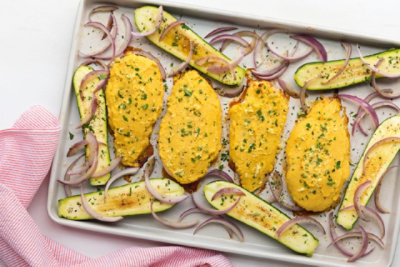 Sheet Pan Lemon Hummus Chicken & Zucchini
Spring has sprung! Usher in the new season with style with this zesty lemon chicken recipe. Juicy chicken is coated with hummus, resulting in a crispy crust with a deliciously moist center.
Total original price
* Estimated price based on adding all ingredients to cart.
Main Ingredients
4 chicken breasts
3 zucchini, sliced lengthwise
1/2 medium red onion, cut into 1/2 slices
1 tablespoon olive oil, divided
1/2 teaspoon kosher salt, divided
1/4 teaspoon ground black pepper, divided
1 cup hummus
1 tablespoon lemon juice
zest of 1 lemon
Cooking Instructions
Step 1
Preheat oven to 450˚. Spray a rimmed baking sheet with nonstick spray. Place zucchini and onion on tray and drizzle with 1 tablespoon olive oil and season with Italian seasoning, 1/4 teaspoon salt, and 1/8 teaspoon pepper. Spread into a single layer on the outer sides a lined baking sheet.
Step 2
Whisk together hummus with lemon juice and zest. Place chicken in center of baking sheet and season with remaining salt and pepper. Spread 1/4 cup hummus on top of each chicken breast.
Step 3
Roast for 30-35 minutes or until internal temperature of 165° is reached.
Step 4 :: Helpful Hints
For easy cleanup, line the sheet pan with aluminum foil.
Step 5 :: Helpful Hints
For extra browning, broil the pan for 3-4 minutes before serving.
Step 6 :: Helpful Hints
Lime juice could also be used instead of lemon in this recipe.
All recipe ingredients should be cooked to a safe internal temperature according to USDA guidelines. After preparing a recipe, please store any leftovers in the refrigerator.