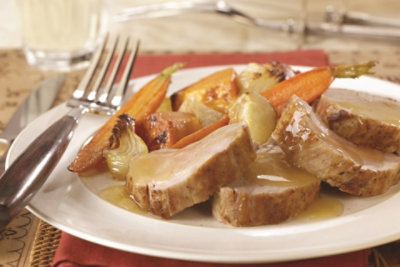 Roasted Pork Tenderloin with Apple-Ginger Sauce
The whole family will love this savory main dish! This Roasted Pork Tenderloin features a tangy apple ginger sauce and goes beautifully with roasted veggies.
1 hour, 15 mins
Total cook time
Total original price
* Estimated price based on adding all ingredients to cart.
Pork Tenderloin
2 pork tenderloin (1 pound each)
2 medium parsnips (OR carrots, peeled and bias-sliced 1/4-inch thick)
2 medium cippolini onions (peeled and each cut into 6 wedges)
1 medium sweet potato (peeled, halved lengthwise and sliced 1/2-inch thick)
1 small turnip (peeled and cut into 1/2-inch cubes)
1/8 teaspoon salt
1/4 teaspoon ground ginger
1/8 teaspoon black pepper
Olive oil cooking spray
1 tablespoon fresh chives (chopped (optional))
Apple-Ginger Sauce
2/3 cup apple cider
1/3 cup chicken broth (reduced-sodium)
2 tablespoons water (cold)
1 tablespoons brandy (OR apple cider)
1 1/2 teaspoons cornstarch
1 teaspoon cider vinegar
1/2 teaspoon butter
1/8 teaspoon ground ginger
Cooking Instructions
Step 1
Heat oven to 425 degrees. Coat inside of large shallow roasting pan with olive oil cooking spray. 
Step 2
Combine parsnips, onions, sweet potato and turnip in pan. Coat vegetables with olive oil cooking spray; sprinkle with 1/8 teaspoon salt. Roast in heated oven for 10 minutes. 
Step 3
Meanwhile, combine 1/2 teaspoon salt, ginger and pepper; sprinkle and rub evenly over surfaces of tenderloins. 
Step 4
Lightly brown one tenderloin over medium-high heat for 2-4 minutes in large heavy skillet coated with olive oil cooking spray. 
Step 5
Transfer tenderloin to cutting board or plate. 
Step 6
Remove skillet from heat and recoat with olive oil cooking spray. Lightly brown remaining tenderloin. 
Step 7
Stir and push vegetables to edge of roasting pan; place tenderloins in center of pan. 
Step 8
Continue roasting in for 20-27 minutes or until internal temperature of pork tenderloins reaches 145 degrees, followed by a 3-minute rest time. While tenderloins are roasting, prepare Apple-Ginger Sauce. 
Step 9
Transfer pork tenderloins to clean cutting board. Loosely cover with foil; let rest for 5 minutes. Turn oven off. Stir and return vegetables to oven to keep warm. 
Step 10
To serve, cut one pork tenderloin into 1/4-inch-thick slices. Serve with roasted vegetables and sauce. Garnish with chives. 
All recipe ingredients should be cooked to a safe internal temperature according to USDA guidelines. After preparing a recipe, please store any leftovers in the refrigerator.