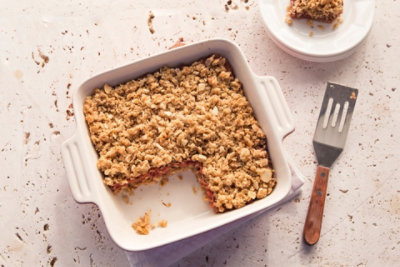 Rhubarb Oat Bars
Rhubarb is harvested in the spring, with a short season that spans from April to June. Rhubarb is naturally tart and is most often served with other fruits based into pies, bars and crumbles. We've added it to this delicious oat bar recipe. Serve for breakfast or top with ice cream for dessert!
Total original price
* Estimated price based on adding all ingredients to cart.
Main Ingredients
1 1/2 cup whole oats
1/2 cup sliced almonds
1/2 cup raw cane sugar
2 tablespoons coconut flour
1/2 teaspoon cinnamon
1/2 teaspoon kosher salt
1/2 cup butter substitute (such as Melt or Earthbalance)
1 teaspoon vanilla
Nonstick cooking spray
Roasted Rhubarb Compote
4 cups rhubarb (cut into 1/2 inch pieces)
1 1/2 cups fresh strawberries (cut into half)
zest of one lemon
1/4 teaspoon kosher salt
aluminum foil
Cooking Instructions
Step 1
Preheat oven to 350 degrees.
Step 2
In a food processor or blender, add whole oats, almonds, sugar, coconut flour, cinnamon and salt. Pulse 2-3 times to mix. Add butter spread in spoonfuls to mix and the vanilla. Pulse until butter is in small pieces throughout mixture, resembling coarse crumbs.
Step 3
For compote: Mix rhubarb, strawberries, lemon zest and salt.
Step 4
Spray an 8 x 8 square pan with nonstick spray. Add 1/2 of the oat mixture and press into pan. Spread rhubarb compote evenly over the bottom layer, and top with remaining oat mixture. Bake for 30-35 minutes until golden brown.
Step 5
Remove from oven and let cook on a wire rack. Slice and serve. Leftovers can be stored in an airtight container in the refrigerator.
All recipe ingredients should be cooked to a safe internal temperature according to USDA guidelines. After preparing a recipe, please store any leftovers in the refrigerator.