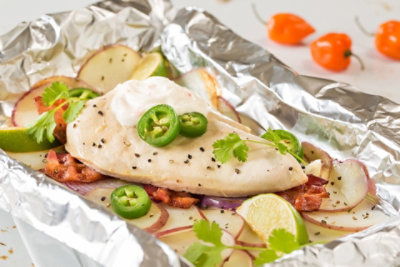 Honey-Habanero Chicken Campfire Packet
Celebrate summer with this campfire packet recipe. Made with a variety of delicious flavors, like habanero, honey and jalapeño, this recipe is sure to elevate your summer barbecue! The Honey-Habanero Sour Cream is sure to be a crowd favorite this season.
Total original price
* Estimated price based on adding all ingredients to cart.
Chicken
4 Signature Farms® boneless, skinless chicken breast; butterflied
2 tablespoons canola oil
12 red potatoes, sliced thin
2 red onions, thin sliced
8 strips Signature Farms® smoked bacon, par-cooked and cut into 1/2 slices
8 lime wedges
2 jalapeños, sliced thin
8 cilantro sprigs
4 tablespoons honey-habanero sour cream
Honey-Habanero Sour Cream:
1 habanero pepper, minced
4 ounces cream cheese, softened
2 tablespoons honey
1 pinch salt
Cooking Instructions
Step 1
To build the campfire packets: place 2 sheets foil on cutting board. Prepare packets in the following order: canola oil, red onion, bacon, chicken breast, jalapeño, lime and cilantro.
Step 2
Close first sheet of foil over packet and secure edges tightly, then fold over second sheet.
Step 3
Place packets onto medium-high heat grill and cook for 15-18 minutes per side, or until all ingredients reach internal temperature of 165°.
Step 4
Honey-Habanero Sour Cream: In a small mixing bowl combine minced habanero, sour cream, honey and salt— mix well. Use immediately or reserve chilled for up to 36 hours. Note: the habanero is spicy, but combining it with sour cream diffuses the spice. For a milder sour cream, discard the habanero seeds.
Step 5
To serve campfire packets, open packets and garnish with dollop of honey-habanero sour cream and a squeeze of fresh lime.
All recipe ingredients should be cooked to a safe internal temperature according to USDA guidelines. After preparing a recipe, please store any leftovers in the refrigerator.