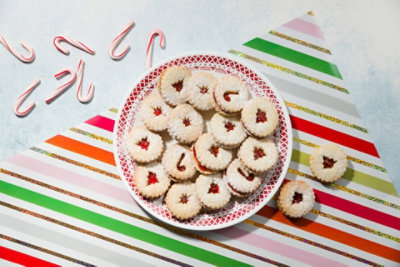 Holiday Linzer Cookies
Made with O Organics® Raspberry Preserves, these festive, baked, and buttery cookies are a must-have dessert to celebrate the holidays!
1 hour, 50 mins
Total cook time
Total original price
* Estimated price based on adding all ingredients to cart.
Main Ingredients
1 1/2 cups O Organics® Unsalted Butter, at room temperature
1 cup Signature SELECT™ Granulated Sugar
1 Lucerne® Egg
1 teaspoon O Organics® Pure Vanilla Extract
3 1/2 cups Signature SELECT™ all-purpose flour
1 cup O Organics® Raspberry Preserves
1/2 cup Signature SELECT™ Powdered Sugar
zest of one lemon
Cooking Instructions
Step 1
Using the paddle of a stand mixer, cream the butter and sugar on medium speed for two minutes. Add the egg, vanilla, lemon, and salt and mix until combined. Turn mixer to low and gradually add the flour until just combined. The mixture will be slightly crumbly. Form two disks with the dough and cover with plastic wrap. Refrigerate for at least 1 hour.
Step 2
Preheat oven to 350 degrees. Remove the dough from the refrigerator and let it sit for 10 minutes. Place disk between 2 pieces of parchment paper. Using a rolling pin, roll the dough 1/4-inch thick. Cut out the dough using a 2-inch round biscuit cutter or cookie cutter.
Step 3
In half of the rounds, cut out a circle (or shape) in the centers. A small cookie cutter or the back of a piping tip can be used. Refrigerate any dough that is not being baked or rolled out.
Step 4
Place the cookies on a parchment-lined baking sheet and bake for 18-20 minutes, or until the edges are lightly golden. Transfer cookies to a wire rack to cool.
Step 5
Once cooled spread about 1 teaspoon of preserves on the bottoms of the cookies. Gently press the cut-out cookies on top of the preserves. Dust with powdered sugar.
Step 6 :: Helpful Hints:
Can be made in advance and stored in the freezer for up to one month. For a nutty flavor, substitute pure almond extract for the vanilla extract.
All recipe ingredients should be cooked to a safe internal temperature according to USDA guidelines. After preparing a recipe, please store any leftovers in the refrigerator.