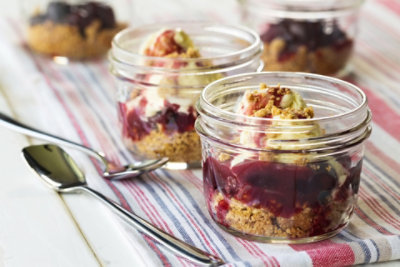 Grilled Cherry Packets with Maple and Graham Cracker Crumble
Celebrate the season with this Grilled Cherry Packet recipe. Made on the grill or in the oven with cherries, butter, maple syrup, orange juice, ice cream and a homemade Graham Cracker Crumble, this versatile recipe is perfect for summer evenings! Enjoy this delicious recipe on Memorial Day or the Fourth of July for a festive dessert everyone will love!
Total original price
* Estimated price based on adding all ingredients to cart.
Grilled Cherry Packets
1 orange, peeled, cut into segments
24 cherries, pitted
2 tablespoons unsalted butter, cut into cubes
4 tablespoons Signature SELECT® pure maple syrup
1/4 cup orange juice
4 scoops Signature SELECT® vanilla ice cream
4 large squares Signature SELECT® aluminum foil
Graham Cracker Crumble
6 Signature SELECT® honey graham crackers
4 tablespoons Signature SELECT® all-purpose flour
1/4 cup unsalted butter, melted
1 pinch kosher salt
4 tablespoons Signature SELECT® granulated sugar
Cooking Instructions
Step 1 :: Grilled Cherry Packets
Double stack aluminum foil squares to create two packets, combine the cherries, orange slices, orange juice, maple syrup and butter, then divide between the two squares and wrap up in foil, sealing the top.
Step 2
Place onto preheated grill for approximately 8-10 minutes per side or until thoroughly heated. Note: you should be able to hear the liquid boiling.
Step 3
Remove from grill and divide into jars, then top with ice cream and pour syrup over top. Garnish with crushed graham crackers.
Step 4 :: Graham Cracker Crumble
Preheat oven to 350°.
Step 5
Put graham crackers, flour, salt and sugar into food processor, process until finely ground.
Step 6
Transfer to mixing bowl, add in melted butter, mix well.
Step 7
Line small baking sheet with parchment paper or aluminum foil, add crumb mixture.
Step 8
Bake 10-15 minutes, until golden brown, stirring as necessary to allow for even toasting.
Step 9
Remove from oven and cool.
All recipe ingredients should be cooked to a safe internal temperature according to USDA guidelines. After preparing a recipe, please store any leftovers in the refrigerator.