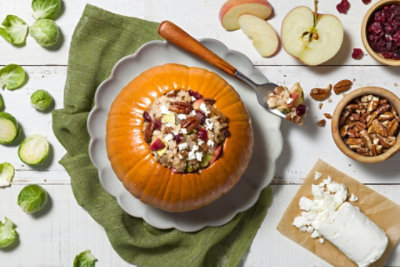 Dinner in a Pumpkin
This meal in a pumpkin is perfect for fall.
1 hour, 15 mins
Total cook time
Total original price
* Estimated price based on adding all ingredients to cart.
Main Ingredients
4 5-inch pie pumpkins
4 cups cooked brown rice (prepared to package directions)
2 cups quartered Brussels sprouts
2 cups diced apple (fuji or gala)
1 medium yellow onion (diced)
5 ounces goat cheese (crumbled)
1/3 cup dried cranberries
1/3 cup chopped pecans
2 tablespoons apple cider vinegar
1 tablespoon extra virgin olive oil
1/4 cup vegetable broth
1 teaspoon kosher salt
1/2 teaspoon black pepper
Cooking Instructions
Step 1
Preheat oven to 350º. Cut off tops of pumpkins. Thoroughly clean out seeds and pulp. Set aside.
Step 2
In a large sauté pan, heat olive oil over medium high heat. Add onion and cook 2-3 minutes until slightly translucent and edges are beginning to brown. Add Brussels sprouts and season with salt and pepper. Cook for 3-4 minutes, stirring occasionally. Add apple and cook additional 2 minutes until mixture has some brown edges.
Step 3
Add broth and vinegar, scraping bottom of pan. Add rice, cheese, cranberries and pecans. Remove from heat and stir mixture until all ingredients are fully incorporated.
Step 4
Spoon mixture into pumpkins. Replace pumpkin tops and place on rimmed baking sheet. Bake 50-60 minutes until flesh of pumpkin in soft.  
All recipe ingredients should be cooked to a safe internal temperature according to USDA guidelines. After preparing a recipe, please store any leftovers in the refrigerator.