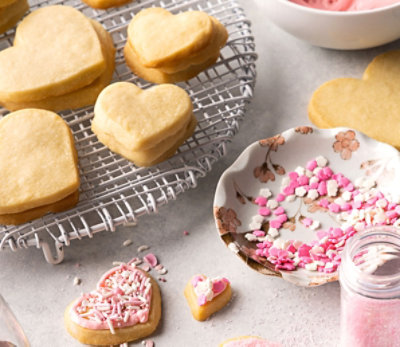 DIY Cookie Decorating Bar
Throw yourself a quick shortcut for a Valentine's Day to remember and build a DIY cookie decoration bar using pre-made cookies from your Tom Thumb's bakery or store bought cookie dough. Round up your besties for a day of icing, laughter, and sweet cookies.
Each cookie serves as a blank canvas for your imagination:

• Pop on the sprinkles.
• Load up icing in all your favorite colors.
• Spoon over molten stripes of chocolate.
• Get wild and dunk the whole cookie in lava-like chocolate. Who can resist chocolate?
• Top with bite-sized pieces of fruit like strawberries, bananas, and even apples.

Whether you have a sweetheart, or you're flying solo, decorating your own cookies is a great way to be kind to yourself. You're in the driver's seat, whether you want cookies crusted on the edges with your favorite nuts, or if you prefer a classic sugar cookie with only a hint or two of décor in the middle.

Rev up a great night in by turning this cookie decoration time into the highlight of the party. You're only limited by your imagination. The sweetest treat this Valentine's Day isn't what's on the table, it's who's at the table. So, whether it's a table for one or a baker's dozen, you're in for a great time. 

Valentine's Day Treats
Valentine's Day is the perfect time to indulge your sweet tooth. Valentine's Day chocolate reigns supreme, but don't forget about the Valentine's Day candy and celebration worthy cakes ready for purchase at your local Tom Thumb.

Of course, it isn't all chocolates, cakes, and candy of course. Fresh fruit is available, including pre-cut slices. Sometimes the best pineapple is the one that you can just grab and eat right out of the package.

You can always mix and match your favorite Valentine's Day treats for great combinations to really set the day off right. Dip your favorite fruit in chocolate or try caramel for a fun twist on the classic combo.

Perhaps your idea of a Valentine's Day surprise runs more on the savory side than the sweet side. Buy a couple of steaks for the grill, which provide a blank canvas for butter, garlic, and spices to shine. You could also skip the turf and focus on the surf side of things, with great seafood options like crab, shrimp, lobster, oysters and clams.

This Valentine's Day, love and convenience go hand and hand. You've got the love part, and you can shop online in the app or in store at your local Tom Thumb.