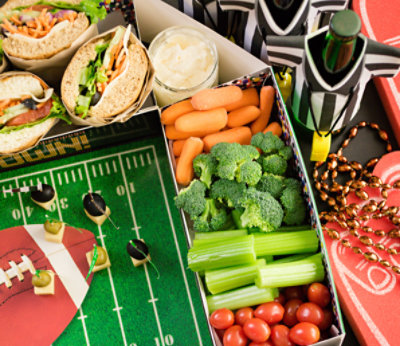 Get ready to turn your gameday gathering into a culinary touchdown. Simply gather your ingredients and begin creating your own edible football stadium:
Step 1: The Base - Start with a large platter to serve as your 'field'. Arrange a layer of tortilla chips, pretzels, and/or chopped vegetables to resemble the football field.
Step 2: The Stadium - Use slices of hotdogs or cocktail sausages to create the stands. Arrange them along the edges of your field.
Step 3: The Spectators - Tiny cheese cubes, grapes, or olives make for perfect 'spectators' in the stands. Scatter them throughout the stadium and stands for a burst of flavor and color.
Step 4: The Goal Posts - Create a 'goal post' using pretzel sticks. Form an H shape using 2 longer sticks for the vertical posts and a shorter stick as the horizontal bar. Carefully insert them into the 'end zones' of your field.
Step 5: The Dips - Prepare a variety of dips to represent the 'playing field'. At Tom Thumb we offer fresh, store made guacamole, salsa, and sour cream-based dips that can resemble different areas of the field, adding a flavorful twist to your creation. 
Step 6: The Finishing Touches - Use chopped veggies or pepperoni slices to outline the 'yard lines' and 'hash marks' on your edible field.
Need help building the ultimate snack stadium? Tom Thumb can help with fresh-cut veggies, party platters, wings and more fresh favorites made in-store. Grab everything you need in-store or online today. Order online for DriveUp & Go™ pickup and get the game day party started.
Game day snacks: the perfect companion to fall football! 
Two teams walk on the field, but there's only one winner. Will it be your team? This fall, you can root for your favorite team and find all your favorite football snacks at your local Tom Thumb.
A blank table is the ticket to game day food and fun. You can start with great appetizers like loaded nachos, pigs in a blanket and chicken wings.
Do you want to serve an old classic in a new way? It's time to bring on the French fries. A French fry bar is a fun way for everyone around the table to get the type of French fries and sauce they want. Curly fries and thick cut fries are a great pair, but feel free to throw in sweet potato fries and tater tots. Serve the table different sauces so everyone gets to personalize their plates; the possibilities really are endless!
Finger-friendly foods are the name of the game. Heat and serve meatballs from the frozen aisle are not only easy to prepare, but versatile. A wide variety of flavor options await, like smoky BBQ, sweet Hawaiian and classic ranch.
Chips and guacamole are a great combo for game day snacking. Pick up guacamole from the deli for an easy side that's ready to go, or you can whip up fresh guacamole with avocado, tomato, jalapenos, salt, lime juice and garlic.
Getting all your favorite finger-friendly football foods is fast, convenient and fun. Shop online in the app or at your local Tom Thumb.