Feel free to change your location anytime.
Sign In / Up

Summary

0

Points Toward
Next Reward

0

Rewards Expiring
End of Month
Feel free to change your location anytime.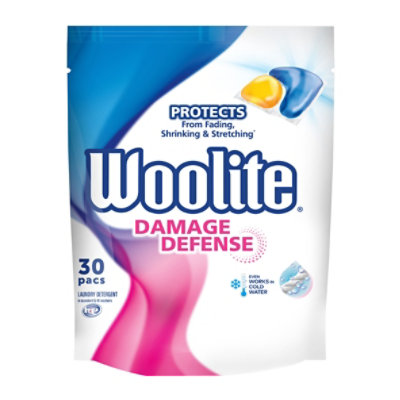 Woolite Gentle Cycle Pacs - 30 Count Glycerin, C12-14 alcohols Ethoxylate, Sodium Laureth Sulfate, Propylene Glycol, Water, Distilled Coconut Fatty Acid, Triethanolamine, Polyvinyl Alcohol, Fragrance, Sodium Diethylenethiamine Pentamethylene Phosphonate, Citric Acid, Sodium Sulphite, Copolymer of 1-Vinylimidazole and 1-Vinyl-2-Pyrrolidone, Linalool, Benzyl Salicylate, Citronellol, BHT, Butylphenyl Methylpropional, Coumarin, Hydrolyzed Keratin, Cellulose Enzyme, Benzisothiazolinone, Denatonium Benzoate, C.I Acid Blue 80. D&C Yellow No. 10 , Acid Red 52.
Detergent, Clean & Care, Pacs


30 New 4x clean & care benefits. Gently cleans. No stretching. No shrinking. No fading (Won't cause streching, chinking of fading). In standard & HE washers. Clothes look new for longer. Clean & care. Care: A drop of keratin in every wash. Gently Cleans: softens, smooths and moistens fibers (Won't cause stretching, shrinking or fading) to maintain shape of garments. Woolite cleans and cares for all the clothes that matter the most to you. New Woolite Clean & Care Pacs dissolve fast in the wash to gently clean without causing stretching, shrinking or fading. Your clothes look like new for longer. Perfect for your little black dress, the perfect pair of jeans, your go-to-blouse or whatever piece of clothing that is special to you. www.woolite.com. www.woolite.us. For ingredients and other information, www.woolite.com. For more ingredient information visit www.woolite.us. Questions? 1-800-228-4722. Resealable zipper. No cutting needed. Made in Italy.
Warning
Contains: Contains fragrance allergens. First Aid: Contains anionic and Non-ionic surfactants and enzymes. Call poison control center immediately if detergent gets in mouth or eye or on skin. If swallowed, rinse mouth and drink a glass of water. Do not induce vomiting. Call a physician or poison control center immediately. If in eyes, immediately rinse with plenty of water. Remove any contact lenses and continue rinsing eyes for at least 15 minutes. If irritation persists, get medical attention. If on skin, wash with soap and water, if irritation persists get medical attention. Concentrated detergent pacs can burst if children put them in mouth or play with them. Liquid inside is harmful if put in mouth or swallowed. Eye and skin irritant. Keep pacs out of reach of children. Store container where children cannot reach or climb to it, out of sight and in a secure place. Keep container fully closed
Directions
Usage Instructions: This safety assessment is based on these general usage directions. Any significant deviation to these usage directions, including usage method, delivery rate or application time, may change the safety classifications and precautionary label language and will need to be re-evaluted. 1 with clean, dry hands, place pac(s) directly in the drum (not dispenser), then add laundry. 2 Securely close reseal package and store safely away from reach of children in a dry environment. 3 Wash and dry hands. Dosage: 1 Pac: Small/medium load. 2 Pacs: Large load/heavily soiled loads. To Open Slider-Guard: Slide to notch. Push down tab. Pull back slider. Slide to close.
About the Producer
Reckitt Benckiser
Disclaimer
Product details/images for convenience only.  Consult Product label for the most current and accurate information.  We assume no liability for any inaccuracies/misstatements about Products listed on our website/app.
© 2020 Albertsons Companies, Inc.  All rights reserved.
Sign In or Sign Up
To use this feature, you must sign in or sign up with TomThumb.com. To return to browsing, close this window
Sign In or Sign Up
To use this feature, you must sign in or sign up with TomThumb.com. To return to browsing, close this window
Select Your Store
Cancel
Select a store below to add just for U deals and save on your next shopping trip.
Sorry, no stores found in that zip code. Choose your primary store and relevant offers
LOGO or
LOGO Why am I seeing this?
We found multiple stores for you. One could be your favorite while another might be a store near you, or one you browsed in the past. Since some offers vary by store, we want to make sure we're showing you the correct offers for your favorite store.
Why do I see this every time I visit?
If you visit the website and are not logged in, we automatically pick the store closest to you. If you try then log in and have a different store saved with your account, we will confirm which store you prefer. If you clear your browser cookies (or have software that automatically clear cookies) you may receive this each time you visit the site.
To keep this from happening
Select "Keep me signed in on this computer" when logging in or go to your browser's settings and update them to not clear cookies for this website.
Cart Content Notification
We've consolidated the items added to your cart from today with those added during a previous visit. Please review and confirm the items and quantities before checking out.
Close
Cart Error
We were unable to consolidate the items added to your cart today with those added during a previous visit. Please review and confirm the items and quantities before checking out.
Close
Confirm Order Changes?
As a reminder, the changes to your order have not been saved yet.
We're not able to confirm your pending order at this time.