Feel free to change your location anytime.
Sign In / Up

Summary

0

Points Toward
Next Reward

0

Rewards Expiring
End of Month
Feel free to change your location anytime.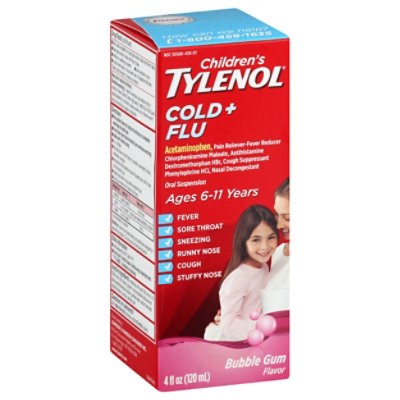 Tylenol Chld Pls Flu Bbl Gum - 4 Fl. Oz. Active ingredients (in each 5 mL). Acetaminophen 160 mg. Chlorpheniramine maleate 1 mg. Dextromethorphan HBr 5 mg. Phenylephrine HCl 2.5 mg. Purposes. Pain reliever/fever reducer. Antihistamine. Cough suppressant. Nasal decongestant. Inactive ingredients anhydrous citric acid, D&C red no. 33, FD&C red no. 40, flavors, glycerin, microcrystalline cellulose and carboxymethylcellulose sodium, purified water, sodium benzoate, sorbitol solution, sucrose, xanthan gum
Pediatric Internal Analgesics, Liquid, Bubble Gum


Intended for kids 6 to 11 years of age, Children's Tylenol Cold + Flu Oral Suspension provides temporary relief from a wide range of cold and flu symptoms, including minor aches and pains, headache, sore throat, cough, stuffy nose, sneezing, and runny nose. This medicine for kids' cold and flu symptoms comes in a kid-friendly bubblegum flavor and is free of ibuprofen, alcohol, and aspirin. The formula also temporarily reduces fever. Each 5-milliliter dose contains 160 milligrams of the pain reliever and fever reducer acetaminophen and 1 milligram of the antihistamine chlorpheniramine maleate. Each dose also contains 5 milligrams of the cough suppressant dextromethorphan HBr and 2.5 milligrams of the nasal decongestant phenylephrine HCl.
Warning
Contains: Liver warning: This product contains acetaminophen. Severe liver damage may occur if your child takes. more than 5 doses in 24 hours, which is the maximum daily amount. with other drugs containing acetaminophen. Allergy alert: acetaminophen may cause severe skin reactions. Symptoms may include:. skin reddening. blisters. rash. If a skin reaction occurs, stop use and seek medical help right away. Sore throat warning: If sore throat is severe, persists for more than 2 days, is accompanied or followed by fever, headache, rash, nausea, or vomiting, consult a doctor promptly. Do not use. with any other drug containing acetaminophen (prescription or nonprescription). If you are not sure whether a drug contains acetaminophen, ask a doctor or pharmacist. to make a child sleepy. in a child who is taking a prescription monoamine oxidase inhibitor (MAOI) (certain drugs for depression, psychiatric o
Directions
Important: Read all product information before using. Keep box for important information. this product does not contain directions or complete warnings for adult use. do not give more than directed (see overdose warning). shake well before using. mL = milliliter. find right dose on chart. If possible, use weight to dose; otherwise, use age. remove the child protective cap and squeeze your child's dose into the dosing cup. repeat dose every 4 hours while symptoms last. do not give more than 5 times in 24 hours. Weight (lb), Age (yr), Dose (mL). under 36 (lb), under 4 years, do not use. 36-47 (lb), 4 to 5 years, do not use unless directed by a doctor. 48-95 (lb), 6 to 11 years, 10 mL. or as directed by a doctor. Attention: use only enclosed dosing cup specifically designed for use with this product. Do not use any other dosing device. Other information. store between 20-25C (68-77F). Questions or comments? call 1-800-458-1635 (toll-free) or 215-273-8755 (collect)
About the Producer
JOHNSON & JOHNSON
Disclaimer
Product details/images for convenience only.  Consult Product label for the most current and accurate information.  We assume no liability for any inaccuracies/misstatements about Products listed on our website/app.
© 2020 Albertsons Companies, Inc.  All rights reserved.
Sign In or Sign Up
To use this feature, you must sign in or sign up with TomThumb.com. To return to browsing, close this window
Sign In or Sign Up
To use this feature, you must sign in or sign up with TomThumb.com. To return to browsing, close this window
Cart Content Notification
We've consolidated the items added to your cart from today with those added during a previous visit. Please review and confirm the items and quantities before checking out.
Close
Cart Error
We were unable to consolidate the items added to your cart today with those added during a previous visit. Please review and confirm the items and quantities before checking out.
Close
Select Your Store
Cancel
Select a store below to add just for U deals and save on your next shopping trip.
Sorry, no stores found in that zip code. Choose your primary store and relevant offers
LOGO or
LOGO Why am I seeing this?
We found multiple stores for you. One could be your favorite while another might be a store near you, or one you browsed in the past. Since some offers vary by store, we want to make sure we're showing you the correct offers for your favorite store.
Why do I see this every time I visit?
If you visit the website and are not logged in, we automatically pick the store closest to you. If you try then log in and have a different store saved with your account, we will confirm which store you prefer. If you clear your browser cookies (or have software that automatically clear cookies) you may receive this each time you visit the site.
To keep this from happening
Select "Keep me signed in on this computer" when logging in or go to your browser's settings and update them to not clear cookies for this website.
Confirm Order Changes?
As a reminder, the changes to your order have not been saved yet.
We're not able to confirm your pending order at this time.