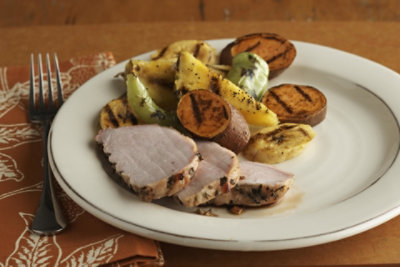 Recipe by
Better Homes & Gardens
Cuban-Style Pork Roast
Leave yourself enough time to marinate this Cuban-style pork in the refrigerator for 3-6 hours before grilling—the hit of flavor it imparts makes it worth it!
4 hour, 15 mins
Total cook time
Total original price
* Estimated price based on adding all ingredients to cart.
Main Ingredients
1 boneless pork top loin roast (single loin),
½ cup orange juice,
3 tablespoons lemon juice,
1 tablespoon soy sauce,
1 teaspoon dried oregano, crushed,
½ teaspoon salt,
¼ teaspoon black pepper,
4 cloves garlic, minced,
Cooking Instructions
Step 1
Trim fat from pork. Place pork in a large sealable plastic bag set in a shallow dish. In a small bowl, whisk together orange juice, lemon juice, soy sauce, oregano, salt, pepper and garlic. Pour marinade over pork; seal bag. Marinate in the refrigerator for 3 to 6 hours, turning bag occasionally. Drain pork, discarding marinade.
Step 2
For a charcoal grill, arrange medium-hot coals around a drip pan. Test for medium heat above the pan. Place pork, fat side up, on grill rack over drip pan. Cover and grill for 45 to 60 minutes or until an instant-read thermometer inserted in pork registers 150°F. (For a gas grill, preheat grill. Reduce heat to medium. Adjust for indirect cooking. Place pork on grill rack over burner that is off and grill as above.) Remove pork from grill. Cover and let stand for 15 minutes. 
Step 3
Transfer about one-fourth (6 ounces) of the roast to an airtight container. Cover and store in the refrigerator for up to 3 days or freeze for up to 1 month. 
All recipe ingredients should be cooked to a safe internal temperature according to USDA guidelines. After preparing a recipe, please store any leftovers in the refrigerator.