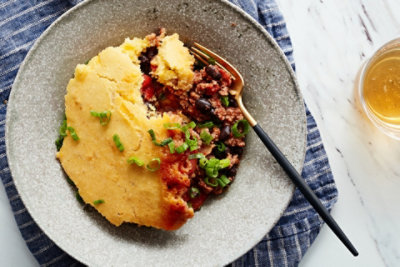 Tamale Pie with Cornbread Crust
Chef Andrea is all about the convenience and ease of a one-dish meal, with one particular requirement: layers of flavors and a variety of textures, to keep every bite interesting. Here, Andrea drew inspiration from Southwestern tamale pie, which layers seasoned beef, cheese, and the masa (or corn) dough of a traditional Mexican tamale. In this recipe, the trickier tamale crust is replaced with crisp, golden, cheesy cornbread.
Total original price
* Estimated price based on adding all ingredients to cart.
Main Ingredients
2 cups black beans
4 scallions
1 1/2 pounds ground beef
1 1/2 teaspoons ancho chile powder
1 1/2 teaspoons ground cumin
2 14.5-ounce cans diced tomatoes
1/4 cup unsalted butter
1 cup buttermilk
1 cup cornmeal
1 cup flour
1 1/2 tablespoons sugar
1 teaspoon baking soda
4 ounces shredded Cheddar cheese
4 ounces shredded Monterey Jack cheese
3 tablespoons olive oil
2 eggs
kosher salt
black pepper
Cooking Instructions
Step 1
Preheat oven to 450ºF. Rinse black beans. Trim and discard scallion roots and thinly slice, keeping whites and light greens separate from dark greens.
Step 2
Pat beef dry with paper towel. Heat 1 tablespoon olive oil in a large high-sided ovenproof pan over medium-high heat. When oil is shimmering, add beef and season with 1 teaspoon salt and pepper as desired. Cook, breaking up, until browned, 3-5 minutes. Using a slotted spoon, transfer beef to a bowl and set aside, discarding excess fat and reserving pan to make sauce (see Recipe Tip).
Step 3
Wipe pan from beef clean and add 2 tablespoons olive oil over medium heat. When oil is shimmering, add spice mix and scallion whites and light greens. Sauté until softening, 3-4 minutes. Return beef to pan, along with diced tomatoes and their juices. Cook, stirring, until sauce has thickened slightly, 5-6 minutes.
Step 4
While sauce cooks, place butter in a medium heatproof bowl and microwave in 30-second intervals until completely melted. Then, add buttermilk and 2 eggs and stir until fully combined with butter. Add cornmeal, flour, sugar, baking soda, half of Cheddar, half of Monterey Jack, and .5 teaspoon salt.  Stir until cornbread mixture comes together, then set aside until ready to assemble.
Step 5
Once sauce has thickened, remove pan from heat and season sauce with .5 teaspoon salt and pepper as desired. Stir in beans, remaining Cheddar, and remaining Monterey Jack. Dollop over cornbread dough on top, then gently spread in an even layer with the back of a spoon or rubber spatula.
Step 6
Transfer tamale pie to oven and bake until cornbread mixture is brown and baked through, 15-20 minutes (P.S. This is a great time to catch up on dishes!). Set aside to cool slightly, 5-10 minutes. Divide among serving plates, garnish with scallion dark greens, and dig in!
All recipe ingredients should be cooked to a safe internal temperature according to USDA guidelines. After preparing a recipe, please store any leftovers in the refrigerator.