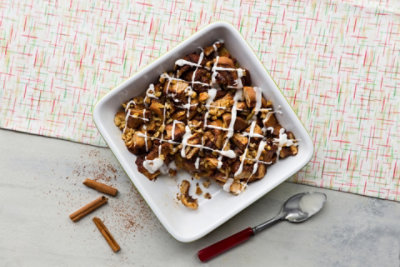 Christmas Morning Cinnamon Roll Bake
Ooey gooey cinnamon rolls meets french toast. The best of breakfast combined into one delicious bake perfect for brunch, holidays and get-togethers.
1 hour, 20 mins
Total cook time
Total original price
* Estimated price based on adding all ingredients to cart.
Cinnamon Rolls
1/3 cup brown sugar
1 tablespoon ground cinnamon
2 tablespoons flaxseed meal
3 tablespoons coconut butter, melted (not coconut oil)
1 package refrigerated whole wheat pizza dough or whole wheat dinner roll dough
Egg Mixture
5 eggs
1/3 cup milk of choice
1/4 teaspoon salt
1/2 teaspoon vanilla extract
1/8 teaspoon ground cinnamon
2 teaspoons flaxseed meal
Cooking Instructions
Step 1
Grease 9X11 baking dish. Preheat oven to 425F.
Step 2
On lightly floured surface, roll whole wheat dough out to large rectangle, about 1/4 inch thick.
Step 3
In small bowl combine brown sugar, cinnamon, flaxseed meal, and melted coconut butter. Use fork to mix until small crumbs form. Sprinkle evenly over rolled out dough.
Step 4
Roll dough inward starting from one long side of dough. Using sharp knife, slice into 1 - 1 1/2 inch slices to form approximately 14 cinnamon rolls. Place flat side of rolls down in greased baking dish with sides touching for about 20-25 minutes until golden brown. Remove from the oven and allow to cool completely. (Cinnamon rolls can be made the night before)
Step 5
In medium bowl beat eggs then add remaining ingredients. Stir until well combined.
Step 6
Remove cooled cinnamon rolls from pan and cut into 1/4 pieces. Grease additional 9x11 or 9x9 baking dish. Add cut cinnamon roll pieces to pre-greased baking dish. Pour egg mixture evenly over cinnamon roll pieces.
Step 7
Bake at 350F for approximately 25 minutes until egg mixture is cooked thoroughly and set.
Step 8
Cut into squares and serve. Enjoy with dollop of Greek yogurt, cinnamon roll icing or drizzle of maple syrup.
All recipe ingredients should be cooked to a safe internal temperature according to USDA guidelines. After preparing a recipe, please store any leftovers in the refrigerator.