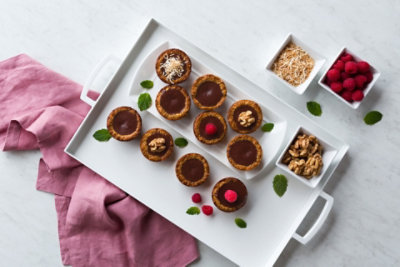 Chocolate Fudge Mini Pies
Rich and adorable, our Chocolate Fudge Mini Pies are delightful treats for a party or a weeknight dessert. Requiring only ten minutes of prep time and lasting a week in the fridge, they're a great option for busy families. Personalize them with different toppings and enjoy!
Total original price
* Estimated price based on adding all ingredients to cart.
chocolate fudge
1/3 cup O Organics® coconut oil
2/3 cup O Organics® chocolate chips
1/2 cup almond butter
1/2 cup unsweetened cocoa powder
crust
1 cup quick cooking oats
1 cup finely-chopped O Organics® walnuts
1/2 cup O Organics® honey
1/4 tsp kosher salt
Cooking Instructions
Step 1
Coat a 12-count muffin tin thoroughly with cooking spray.
Step 2
In a food processor, add all ingredients for the crust. Process for 10 seconds until a crumbly mixture is developed. Divide the mixture equally among the muffin tin cups, pressing mixture down with fingers and against the side of each tin, to form a little pie crust. Bake for 7-8 minutes at 400ºF. Remove and put mixture into the freezer to cool for 10 minutes.
Step 3
In a saucepan, melt the coconut oil. Remove from heat and stir in the chocolate chips, almond butter and cocoa powder until completely smooth.
Step 4
Pour 2 tablespoons of chocolate fudge mixture into each cup. Sprinkle the top with extra walnuts or a little O Organics® unsweetened coconut flakes if desired. Refrigerate until firm.
Step 5
Remove each pie by carefully running a butter knife around the edges of each chocolate pie, gently popping it out of the muffin tin. Chocolate Fudge Mini Pies may either be served chilled for a more solid consistency, or at room temperature for a soft, gooey consistency. Enjoy!
All recipe ingredients should be cooked to a safe internal temperature according to USDA guidelines. After preparing a recipe, please store any leftovers in the refrigerator.