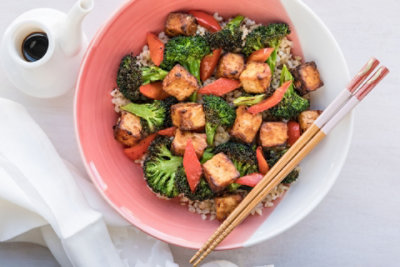 Air Fryer Crispy Tofu and Vegetables
Keep things light this spring with this simple, crispy tofu and veggie dish. Let your air fryer do the heavy lifting for a meal with all the crispiness and flavor of stir fry, but only a fraction of the oil.  Bon appétit! 
Total original price
* Estimated price based on adding all ingredients to cart.
Main Ingredients
1, 16 ounce block extra firm tofu, drained and pressed
1/4 cup hoisin sauce 
1 tablespoon tamari sauce
1 tablespoon rice wine vinegar
1 teaspoon toasted sesame oil
sriracha to taste
1-2 tablespoons corn starch
3 cups broccoli florets
1 cut red bell peppers, cut into 1/2 inch pieces
1 tablespoon extra-virgin olive oil 
1/4 teaspoon kosher salt
Optional
Cooking Instructions
Step 1
Cut tofu into 3/4 inch cubes. In a small bowl whisk to combine hoisin, tamarind, vinegar, sesame oil and sriracha. Place tofu in a gallon sized zip top bag and pour sauce over the tofu. Gently move bag around to distribute the sauce. Let rest for 30 minutes, up to 4 hours.
Step 2
Remove tofu from bag and place on a rimmed baking sheet, brushing off excess sauce. Sprinkle corn starch over tofu and move around until lightly covered. Preheat air fryer on 400 degrees for 3 minutes. Add tofu to fryer in a even single layer (if using a smaller air fryer do this in batches.) Cook for 8 minutes and shake tofu. Return to air fryer and cook until caramelized, about 6-8 minutes. Remove from air fryer. 
Step 3
Mix broccoli and red bell peppers . Serve.
Step 4 :: Helpful suggestions
Double the amount of marinade and reserve half as a sauce to spoon over the tofu and vegetables for extra juicy flavor.  2. Be sure to thoroughly dry the vegetables before air frying. Excess moisture will steam more than caramelize the vegetables.
All recipe ingredients should be cooked to a safe internal temperature according to USDA guidelines. After preparing a recipe, please store any leftovers in the refrigerator.