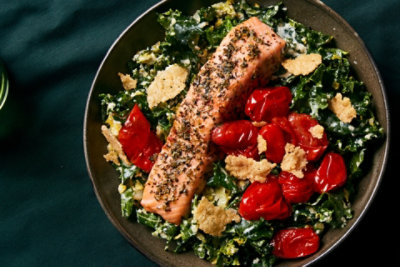 Herbed Salmon Caesar with Kale, Brussels Sprouts, and Parmesan Frico
A good Caesar is really all about the dressing—the lettuce, toppings, and croutons are all fair game for creative twists. Here, a base of kale and roasted Brussels sprouts is tossed with our beloved Caesar, then stacked with herb-crusted salmon, tender tomatoes, and wafers of crispy Parmesan.
Total original price
* Estimated price based on adding all ingredients to cart.
Main Ingredients
1 1/4 pounds salmon
2 teaspoons Italian dried herb blend
1 pint grape tomatoes
10 ounces shredded Brussels sprouts
2 cloves garlic
1 lemon
12 ounces curly kale
4 ounces grated Parmesan cheese
4 ounces mayonnaise
1 tablespoon vegetarian Worcestershire
1/2 ounce Dijon mustard
1 parchment paper
olive oil
kosher salt
black pepper
Cooking Instructions
Step 1
Preheat oven to 425°F (see recipe tip). Rinse all produce. Line 2 baking sheets with foil. Pat salmon dry with paper towel; place on 1 half of 1 prepared sheet, skin-side down. Season tops of fish with Italian dried herb blend, 1 teaspoon salt, and pepper; drizzle over 1.5 tablespoons olive oil and rub in seasoning. On other half of sheet with salmon, toss whole grape tomatoes with .5 tablespoon olive oil to coat.
Step 2
On other prepared sheet, toss Brussels sprouts with 2 tablespoons olive oil, .5 teaspoon salt, and pepper as desired, then arrange in a single layer. Transfer baking sheets to oven and roast together until salmon is cooked through and opaque, tomatoes are soft, and Brussels sprouts are golden, 12-14 minutes.
Step 3
While salmon and vegetables roast, mince garlic and, still on cutting board, sprinkle over .125 teaspoon salt (this will help break down the garlic and extract its natural juices). Using a large knife, carefully scrape over mixture at a 45° angle, pressing down. Repeat until garlic is broken down and a paste forms.
Step 4
Halve lemon. Tear or chop kale leaves into bite-size pieces, discarding long stems. Reserve 3 tablespoons Parmesan in a small bowl for making frico in the next step. In a large bowl, whisk together mayonnaise, Worcestershire sauce, Dijon, garlic paste, juice of 1 lemon (or start with a little, taste, and add more as desired), remaining Parmesan, 2 tablespoons olive oil, .5 teaspoon salt, and pepper to combine.
Step 5
Add kale and roasted Brussels sprouts to bowl with dressing. Discard foil from baking sheet and re-line with parchment paper, then spread reserved 3 tablespoons Parmesan in an even circle, about .125-inch thick. Bake until golden and crisp, 3-5 minutes. Set aside to cool. Then, remove frico from parchment and break into 1-inch pieces (see recipe tip).
Step 6
Toss salad with Caesar dressing, then divide among serving bowls. Top salad with herbed salmon (remove and discard skin, if desired) and roasted tomatoes, then garnish with Parmesan frico. Enjoy!
All recipe ingredients should be cooked to a safe internal temperature according to USDA guidelines. After preparing a recipe, please store any leftovers in the refrigerator.